"Prayosha Enterprise" is the eminence rising company in India, for manufacturing, supplying and exporting the leading ranges of the Surface Grinding Machine in India.We are associated to supply the well-furnished types of surface grinding machines to our valuable consumers; also the other machines like Jumbo Hydraulic Surface Grinding Machine, Jumbo Hydraulic CNC Grinding Machine, Premier Hydraulic Surface Grinding Machine and Supreme Hydraulic Surface Grinding Machine are all widely demanded in the market for the variegated requirements of diverse industries. As we are a very well known firm in the market, we are always making the modern forms of machineries which perfectly match ups with the changing technologies.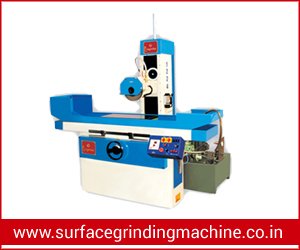 Our active team is encircled to design the qualitative surface grinding machines which is far better from the other company's machines. Our well organized machineries provide the flawless performance and durable in nature. Not only is the offered product best in utilization but also cost-effective for the consumers. Due to this cause, we are still in the lead position by beating the varied competitors in this field.
Our well equipped surface grinding machine manufacturers are producing by utilizing the standard quality raw materials to maintain its sturdiness. A huge list of consumers from many different countries is extensively availing our products due to its unique features and fine finish. Customers from Asian, African and European countries broadly like our machineries because we are conducted give them on affordable price ranges.
What is Surface Grinding Machine?
The surface grinding machine is applicable to formulate the downy finish on the plane surface. This machine is the most common equipment for the grinding operations. It is a finishing process that uses a rotating abrasive wheel to smooth the flat surface of metallic or nonmetallic materials to give them a more refined look by removing the oxide layer and impurities on work piece surfaces. This will also attain the desired surface for a functional purpose. A machine vise placed on the magnetic chuck can be used to hold non-ferromagnetic work pieces if only a magnetic chuck is available. Some types of surface grinders are also capable of producing contour surface with formed grinding wheel.
The grinding machines consist of a divan by means of a match to steer and grasp the work piece, and a power has driven grinding wheel spinning at the obligatory rapidity. The rapidity is resolute by the wheel's width and manufacturer's evaluation. The grinding head can voyage diagonally a rigid workpiece, or the work piece can be stimulated whereas the ground head stays while the ground head stays in a preset place.
Products Range Of Surface Grinding Machine
Advantages of surface grinding machine
⁂ It is possible to grind solid or rough materials
⁂ Provide High degree of dimensional correctness
⁂ Makes surface textures of most elevated terminate
⁂ Tooling process gets cheaper
⁂ Automatically functioned machine, so provides the fast result
⁂ Use proper wheel protectors on all grinding machines
⁂ No adequate amount of speculation is requisite
⁂ Working functions of this machine is simple to understand
⁂ supplementary skills are not compulsory
⁂ far better as compared to the other processing machines
⁂ Large reduction ratio, optimum design of chamber and high crushing efficiency
Applications
⁂ Mining
⁂ Building materials
⁂ Chemical industries
⁂ Metallurgy
⁂ Highway materials
⁂ Railway
⁂ Water conservancy
Utilization of surface grinding machine
⁂ Outer surface of cylindrical substances can be grinded
⁂ This machine is capable of preparing the transmission bushing, shouldered pins and stoneware shafts for simulator force
⁂ This equipment is proficient for finishing the pointed, direct and created holes specifically
⁂ Used for sharpen the milling cutters, taps, other various machine cutting tool cutter and reapers
⁂ Also utilized for grinding the hard materials
Process of surface grinding machines
⁂ At the very first stage, aluminum, stainless steel, brass and plastics materials clog the grinding wheel while being processed
⁂ When grinding process runs at high temperatures, the material tends to become weakened and it starts to get crushed and also more inclined to corrode. This can also result in a loss of magnetism in materials where this is applicable
⁂ The grinding wheel is not limited to a cylindrical shape and can have a numberless option that is functional in transferring varied figures to the entity for work on
⁂ Straight wheels can be completely attired by the machinist to construct convention figures
⁂ When surface grinding an objective, the mechanist must keep in mind that the shape of the wheel will be transferred to the material of the entity like a overthrow figure
Why us?
⁂ We are supplying the complete quality tested machines
⁂ Affordable price ranges are determined
⁂ Our machine is much capable to grind heavy materials
⁂ Prompt actions are taken regarding the requirements of consumers
⁂ Improving the technological development in the product, as per the changing technology
⁂Embattled to provide the 100% customer satisfaction
⁂Best company in market, for providing the well demanded machineries to the reliable consumers with the advanced features