"Prayosha Enterprise" is leading used surface grinding machine, Surface Grinding Machine in India. We holds expertise in Surface Grinding Manufacturer and exporter  in South Africa, Brazil, Kenya, Algeria, Ecuador, Angola, Uganda, Bahrain, Oman, Indonesia, Qatar, UAE and global market. Our Surface Grinding finds application in different industries. Our active team is encircled to design the qualitative surface grinding machine which is far better from the other company's machines. Our well organized machineries provide the flawless performance and durable in nature. Not only is the offered product best in utilization but also cost-effective for the consumers.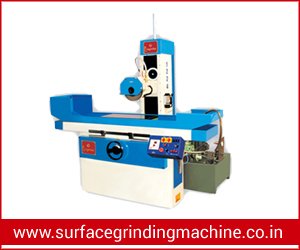 Our well equipped surface grinding machine manufacturer are producing by utilizing the standard quality raw materials to maintain its sturdiness. A huge list of consumers from many different countries is extensively availing our products due to its unique features and fine finish. Customers from Asian, African and European countries broadly like our machineries because we are conducted give them on affordable price ranges.
Surface Grinding Machine Manufacturer
We introduce ourselves as a Top Ranked Surface Grinding Machine manufacturer in India; we are offering Surface Grinder Machine cutting-edge era and Innovation and Innovation under the brand name Prayosha. Prayosha Surface Grinders has developed different sizes of Surface Grinder machine like Manual Surface Grinders, Precision Surface Grinding machine, Vertical Surface Grinder, Horizontal Surface Grinding, CNC Surface Grinding Machine, Hydraulic Surface Grinding in Oil and Ball Types with overall first-class control & cutting-edge. Our Surface Grinders Machines are really vibration-loss for noiseless operations. Accuracy on the machine is guaranteed and in the smooth attain of the machine operator.
We are a leading name, engaged in presenting a huge kind of products. In order to fulfill the particular needs of our valuable clients, we offer these products in numerous technical specifications, as in keeping with their given details. These products are highly demanded within side the marketplace for his or her functions like excessive performance, clean to operate, much less maintenance, sturdy construction, low electricity intake and long purposeful life. In order to supply an excessive high quality at client's end, these products are checked with the aid of using our high quality controllers in opposition to various first-class parameters. Our professionals are well-versed with the modern development of the market and as accordingly manufacturer the supplied variety to fulfill clients. Owing to our obvious dealings, moral commercial enterprise practices, well timed delivery, quality aware method and clean charge option, we were capable of attain a super role within side the industry.
What Is Surface Grinding Machine?
The surface grinding machine is applicable to formulate the downy finish on the plane surface. This machine is the most common equipment for the grinding operations. It is a finishing process that uses a rotating abrasive wheel to smooth the flat surface of metallic or nonmetallic materials to give them a more refined look by removing the oxide layer and impurities on work piece surfaces. This will also attain the desired surface for a functional purpose. A machine vise placed on the magnetic chuck can be used to hold non-ferromagnetic work pieces if only a magnetic chuck is available. Some types of surface grinders are also capable of producing contour surface with formed grinding wheel.
The grinding machines consist of a divan by means of a match to steer and grasp the work piece, and a power has driven grinding wheel spinning at the obligatory rapidity. The rapidity is resolute by the wheel's width and manufacturer's evaluation. The grinding head can voyage diagonally a rigid workpiece, or the work piece can be stimulated whereas the ground head stays while the ground head stays in a preset place.
Surface Grinding Machine Manufacturers In India
Advantages Of Surface Grinding Machine
Used Surface Grinding Machine Price
Working Procedure Of Surface Grinding Machine
| | | | |
| --- | --- | --- | --- |
| CAPACITY | | PH 2040 | PH 2060 |
| Max. Table Travel | mm | 500*1000 | 500*1500 |
| Max. Longitudinal travel | mm | 1075 | 1575 |
| Max. Cross traverse | mm | 550 | 550 |
| Max. Spindle Center Hight above Table | mm | 750 | 750 |
| SPEED AND FEEDS | | | |
| Max. Table speed | m/min | 18 | 18 |
| Auto Cross feed at each table reversal | m | 0.5 to 10 | 0.5 to 10 |
| Least Count of vertical Feed Head Wheel | m | 0.002 | 0.002 |
| GRINDING HEAD | | | |
| Size of Grinding Wheel | mm | 450*50*127 | 450*50*127 |
| Power of Spindle Motor | HP | 5 | 5 |
| Speed of Grinding Spindle | RPM | 1400 | 1400 |
| HYDRAULIC SYSTEM | | | |
| Working Pressure | Kg/cm | 20 | 20 |
| Motor | HP | 5 | 5 |
| Tank Capacity | Ltrs | 150 | 150 |
| GENERAL | | | |
| Machine Height | mm | 2150 | 2150 |
| Floor Space | mm | 2900×2100 | 3850×2100 |
| Net Weight | kg | 4500 | 5300 |
| Gross Weight | kg | | |