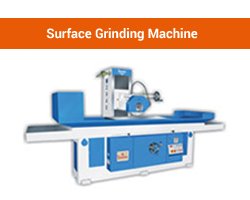 This Surface grinding machine is primarily employed to machine the job piece so as to get smooth finishing on the exterior and is done by subjecting the job to the machine's grinding wheel. This abrasion produced by the rotating grinding wheel ideally makes the flat surface smooth as per the requirement.We are the chief manufacturers of Surface grinding machine in India and we manufacture them utilizing excellent quality materials obtained from trustworthy vendors.
They are fabricated employing state-of-the-art technology accessible so far. We make these machines accurately and uphold their quality at all phase of fabrication. Henceforth they are enormously enduring.
These machineries are lucrative and power efficient and provide exceptional productivity. We offer a wide range of this type of machines which include
CNC Surface Grinding Machine and 
Flat Surface Grinding machine 
in conjunction with their spares.