Hydraulic Surface Grinding Machine Manufacturer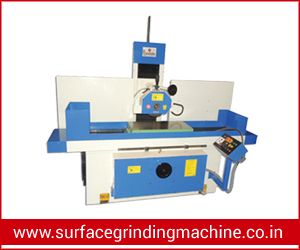 Being an ISO certified firm, we provide robust series of machines for Hydraulic surface grinding machine. Our machines found its applications in different industries. Our machines are fabricated as per international conditions and tested as per IS 2743:1992. Smart design of spindle facilitate for efficient movement of machine. It is provided with anti-friction bearings. It is built with space saving mechanism that occupies least floor space. It is preferred for its effective performance with least vibration. It is provided with digital display.
Our models of hydraulic surface grinding machines are available with size range of 200 PSG to 1000 PSG. It is available with suitable criteria of cross feed wheel feed and wheel head. It is provided with best quality electrical like hydraulic head motor, coolant motor, table feed motor and different length, width and height of floor space. It is made rigid model with anti friction bearings.
Hydraulic Surface Grinding Machine Exporter | Hydraulic Surface Grinding Machine India