A range of Surface Grinder Machine, ranging from heavy grinding to precision grinding, can be performed efficiently through automatic cycle operations. Surface Grinder of a wide range of materials, ranging from metal to ceramics or glass, etc. is possible by selecting suitable grinding stones. Our offered Surface Grinder Machines are absolutely vibration- free for noiseless operations
We have developed different sizes of  Surface Grinder Machine includes Automatic and Hydraulic Surface Grinder Machine, Cylindrical Surface Grinder Machine, Plate, Used, CNC Grinder Machine, Horizontal Surface Grinder, Precision Surface Grinders, Oil and Ball Type, and Flat Surface Grinders Machine product at a very reasonable price.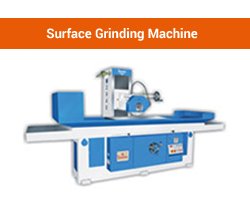 The Prayosha Enterprise possesses an experience of more than the two decades in holds expertise in the Manufacturer and Supplying Surface Grinder Machine in South Africa, Kenya, Algeria, Uganda, Bahrain, Oman, Qatar, UAE and global market. Our Surface Grinder Machine finds application in different industries.